StakeholderDialogues.net
StakeholderDialogues.net is a learning space that is directed towards practitioners from the private sector, the public sector, and civil society organizations who are working on sustainable development issues. It conveys the methodology that empowers you to make stakeholder collaboration work, face global challenges, and secure your competitiveness while operating in a sustainable way. Unlike conventional approaches, StakeholderDialogues.net equips you with an integrated system that makes a significant positive impact on your multi-stakeholder environment.
StakeholderDialogues.net builds a global network for change by encouraging practitioners and fostering mutual support among change agents and empowers people to use the dialogic change methodology and collective leadership for sustainability.
The Collective Leadership Institute
StakeholderDialogues.net is a project by the Collective Leadership Institute . The project received initial support from the Federal Ministry of Economic Cooperation and Development (BMZ) and the Deutsche Gesellschaft für Internationale Zusammenarbeit (GIZ) GmbH.
At the Collective Leadership Institute we empower people to lead collectively for a sustainable future. Sustainability is a global challenge, and how well we meet that challenge, success and failure in moving towards a sustainable way of living, will affect us all. We believe in the principle of cooperation and collectively created solutions across sectors, institutions, nations, and cultures.
At the Collective Leadership Institute , building commitment, fostering engagement, and enhancing collective responsibility for change towards sustainability is our daily focus. With our educational programs, our process support, our community building, and our research we build competence for sustainability.
The Collective Leadership Institute is an internationally operating non-profit organization based in Germany (Potsdam) and South Africa (Cape Town). The Collective Leadership Institute was founded in 2005 and is an independent initiative supporting stakeholders from all sectors. Be it in the private sector , the public sector , or in civil society , each one of the practitioners that has taken part in one of our capacity building courses operates more successfully in a complex, multi-stakeholder environment and is confident to face a broad range of challenges associated with this type of setting.
Engage with us
Many of our users, clients, and partners lead the way in pioneering innovative forms of collaboration in their businesses, initiatives, and projects towards sustainability. In the spirit of co-creation, we invite you to become part of a growing network of global changemakers.
Join us on StakeholderDialogues.net in making a difference. How?
Become a partner in realizing our vision and offering open-source knowledge on Stakeholder Dialogues
Co-create content with us - synergizing our competencies for innovative solutions, tools and projects
Benefit from our specialized learning offers to improve your sustainability projects and processes with Stakeholder Dialogues
Interested? Then contact our liaison officer Sabine Heckmann .
Our three strategic priorities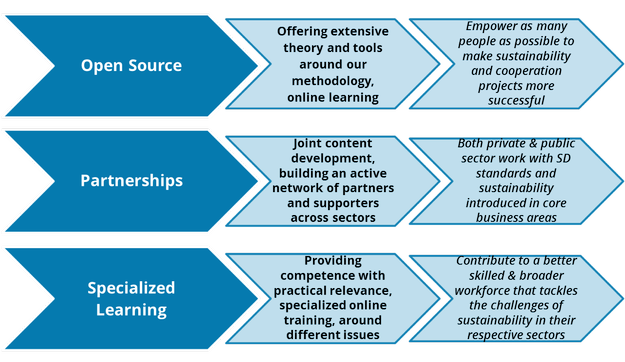 Print this page